Spring burns planned for Ramsey County parks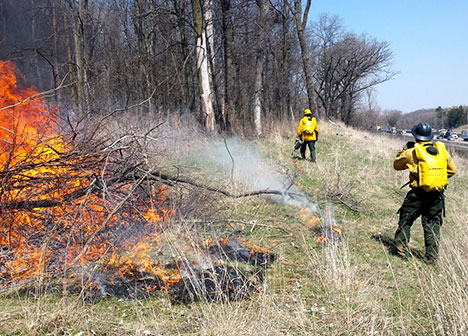 Ramsey County Parks & Recreation will conduct prescribed burns of some county-owned prairies and woodlands this spring. Burns are planned to begin in late April and run through June. Experienced county staff and contractors work carefully to manage smoke conditions while conducting burns, however, some residents may smell smoke.
Prescribed burns improve the growth of native vegetation including shrubs, grasses and wildflowers, and helps to control weeds. Burns will range in size from under an acre to over 80 acres.
Specific dates and times of the burns are dependent on weather and wind conditions and generally cannot be determined more than one day in advance. Whenever possible, burn information will be shared on ramseycounty.us/parks and the Parks & Recreation Twitter and Facebook pages.
Parks where burns will take place include:
Posted on
Tuesday, March 29, 2022 - 9:00 a.m.