Trails
Contact us

Go walking, biking, mountain biking or cross-country skiing on winding trails through natural areas that offer a spectacular look at Ramsey County's diverse landscape.
Ramsey County manages six regional trails within the Metropolitan Council's Regional Recreation Open Space System, as well as several miles of trails located within parks.
Subscribe to trail news and updates
Trail maps
All trail maps are available in PDF format.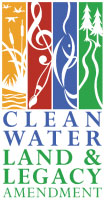 Rules
Be courteous to others.
Observe directional signs and speed limits where posted.
No motor vehicles on trails.
Pets on trails must be leashed at all times. Owners must clean up after their pets.
Bikers must yield to pedestrians.
Bikers should pass on the left and announce their approach.
Bikes are allowed on paved trails only.
Mountain biking on designated trails only.
Electric bicycles are allowed on paved trails, and must be operated safely at speeds below 20 mph.
Power-driven mobility devices used by people with disabilities are allowed in parks.