Food Scraps
Contact us

Twenty percent of our trash is wasted food. There's a better option to manage this waste. Bring your food scraps to a Ramsey County collection site for composting. In six months, the food scraps will become finished compost at an industrial compost facility. The finished compost is used in gardens, landscaping and construction projects. It can help soil hold more water and nutrients, support more living organisms, help control erosion and stormwater runoff, and much more. Get started today!
All sites open to Ramsey County residents only. No businesses or institutions.
Arden Hills, Battle Creek, Frank & Sims and White Bear Township collection sites also open to Washington County residents.
Subscribe to food scraps updates
Food scraps starter kits no longer available
Ramsey County no longer provides countertop food scraps caddies (starter kits) as we prepare to launch the food scraps pickup program in 2023. Compostable bags are still available at all our food scraps drop-off sites. If you already have a countertop caddy at home, continue using it. Otherwise, any other container can be used for food scraps collection.
Coming in 2023: Food scraps pickup program
You'll soon have a new way to recycle food scraps from home! Ramsey and Washington counties are working together to bring a food scraps pickup service to all residents, with rollout beginning in 2023. 
This new program is part of a larger system for managing food scraps. County food scraps drop-off sites will remain in operation, and some people may prefer to compost food scraps in their backyards. Do what works best for you! 
Stay tuned for updates. Meanwhile, find more information by visiting the Ramsey/Washington Recycling & Energy website or calling 651-661-9393.
Compostable bags
If using a compostable bag not provided by the county, check that it has the "compostable" logo from the Biodegradable Products Institute (BPI) on the bag or the box. Compostable bags can be found at local retailers or online. Do not use regular plastic bags; they will not compost.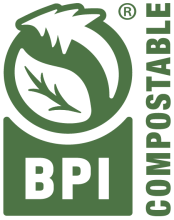 Collection at 24/7 drop-off sites
These sites are open year-round, 24 hours per day. 
Scroll table right to see more
Collection at yard waste sites
December - March
Monday - Friday: closed
Saturday: 9 a.m. - 5 p.m.
Sunday: 11 a.m. - 5 p.m.
April - November
Monday, Wednesday, Friday: 11 a.m. - 7 p.m.
Tuesday, Thursday: closed
Saturday: 9 a.m. - 5 p.m.
Sunday: 11 a.m. - 5 p.m.
Closed on the following holidays: New Year's Day, Memorial Day, Independence Day, Labor Day, Thanksgiving Day and Christmas Day.
Scroll table right to see more
How to recycle food scraps
Where to buy finished compost
Frequently asked questions