CATGUARD (Catalytic Converter Theft Prevention) Pilot Program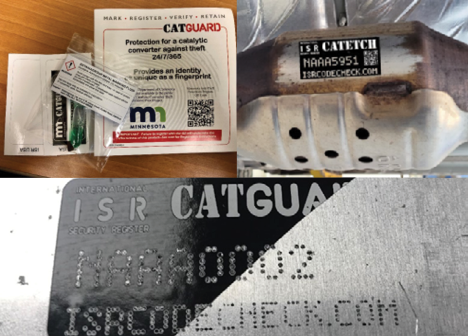 Minnesota has one of the highest theft rates of catalytic converters in the nation. Criminals who steal catalytic converters can cut them off with a saw in less than a minute and sell them. The value of the precious metals in catalytic converters can make them worth up to $1,600.
Catalytic converters often do not have serial numbers and those that do are generally not traceable to the vehicle they were installed on. The lack of identification numbers on catalytic converters makes it extremely unlikely an officer or deputy will be able to link a detached catalytic converter to a crime.
The Ramsey County Sheriff's Office has partnered with the Minnesota Department of Commerce Fraud Bureau in a pilot program to promote catalytic converter theft prevention by distributing self-install marking kits to residents of Ramsey County who have a high-risk for theft vehicle, or have had a catalytic converter stolen.
The marking kits include:
a label to be installed on a "cool to the touch" catalytic converter and painted with a metal marking fluid that causes a unique number to be etched into the catalytic converter.
two warning labels that indicate your vehicle has a marked catalytic converter.
information on "how to register the label's unique code number" and "information updates" which allows law enforcement to trace the marked converter back to a specific vehicle if the converter is stolen and later recovered.
The kits are limited to specific vehicles (see list below) and supplies are limited.
Scroll table right to see more
The marking kits are only for these vehicles most at-risk for catalytic converter theft
If your vehicle is on this list consider participating in this pilot program.  
| | | |
| --- | --- | --- |
| Chevrolet Express | Honda Element | Mitsubishi Eclipse |
| Ford Econoline | Honda Odyssey | Mitsubishi Lancer |
| Ford F250 | Hyundai Santa Fe | Mitsubishi Outlander |
| Honda Accord | Hyundai Tucson | Toyota Prius |
| Honda CRV | Kia Sportage | Toyota Tundra |
Victims of catalytic converter theft from a vehicle not on this list are eligible by providing a police report number.
To receive a marking kit:
Call the Ramsey County Sheriff's Crime Prevention Unit at 651-266-7339 to schedule pickup and registration of your marking kit.
You will need to bring your Photo ID, vehicle identification number (VIN) and license plate number
​The law requires labels be installed at no cost to vehicle owners. Businesses cannot charge for the installation of a label, but they can require another service, such as an oil change, be performed at the time of installing the label.
If your vehicle is not on the at-risk list, an alternative is to engrave your catalytic converter(s) with the VIN or partial VIN (the last 8) of your vehicle. It is recommended to apply a bright colored high-temperature paint with the engraving.
If your marked catalytic converter is stolen please report the theft and provide the marking details as soon as possible.
More information about the CATGUARD Label Solution can be found at: 
For non-residents of Ramsey County, click the following link to download a list of other partnering communities: https://mn.gov/commerce-stat/xls/cc-participation-city.xlsx.
The state law that covers the details of the pilot program is Minnesota State Statute § 325E.21.