Foster care and adoptions receives awards for LGBTQ2S+ inclusion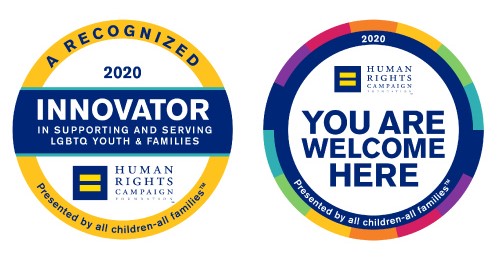 Ramsey County foster care and adoptions have been nationally recognized as innovators in supporting and serving LGBTQ2S+ (lesbian, gay, bisexual, transgender, transsexual, queer, questioning and two-spirit) youth and families.
The two programs were recently awarded the highest possible "Innovator" and "You Are Welcome Here" seals of recognition by the Human Rights Campaign's All Children-All Families initiative. These awards build upon inclusive work begun in 2018 when Ramsey County became the first agency in Minnesota to receive a Human Rights Campaign seal. With this recognition, the county is designated as a leader in achieving safety, permanency and well-being of LGBTQ2S+ youth and families and in policy advocacy and organizational partnerships.
Child foster care and adoptions earned the highest innovator seal by pushing beyond the practices they implemented in 2018 with innovative new approaches to LGBTQ2S+ inclusion that included: 
Hosting a series of required LGBTQ2S+ trainings both online and in-person for their staff, Fostering Connections and management.
Updating more forms and resource guides with inclusive language and adding LGBTQ2S+ content in trainings for foster families.
Creating LQBTQS+ recruitment materials, participating in Twin Cities Pride, establishing an LGBTQ2S+ staff steering committee and hiring an LGBTQ2S+ advocate.
In addition, foster care and adoptions continues to work with Ampersand Families and RECLAIM for ongoing LGBTQ2S+ competency training for all of Social Services staff, with trainings exclusively for foster care, adoptions and Fostering Connections.
Interested in learning more about becoming a foster care provider? Register for an upcoming orientation.
HRC's All Children-All Families project promotes LGBTQ cultural competency among child welfare agencies through innovative resources, including and online agency self-assessment tool, comprehensive staff training, free technical assistance and more. Learn more on the Human Rights Committee's website.
Posted on
Thursday, May 28, 2020 - 4:19 p.m.