Blue Line/Riverview Connection Study
Contact us
The Blue Line/Riverview Connection Study is an 18-month-long study to create a community-focused, equitable transit vision for the greater Highland Park area. This area will go through significant changes in the coming years, particularly with the development of the Highland Bridge Site. The study will identify transit options that will connect the METRO Blue Line, METRO A-Line and the future Riverview Modern Streetcar corridor. Options will be evaluated over multiple timeframes (short, mid, and long-term) to account for anticipated land use changes in the area.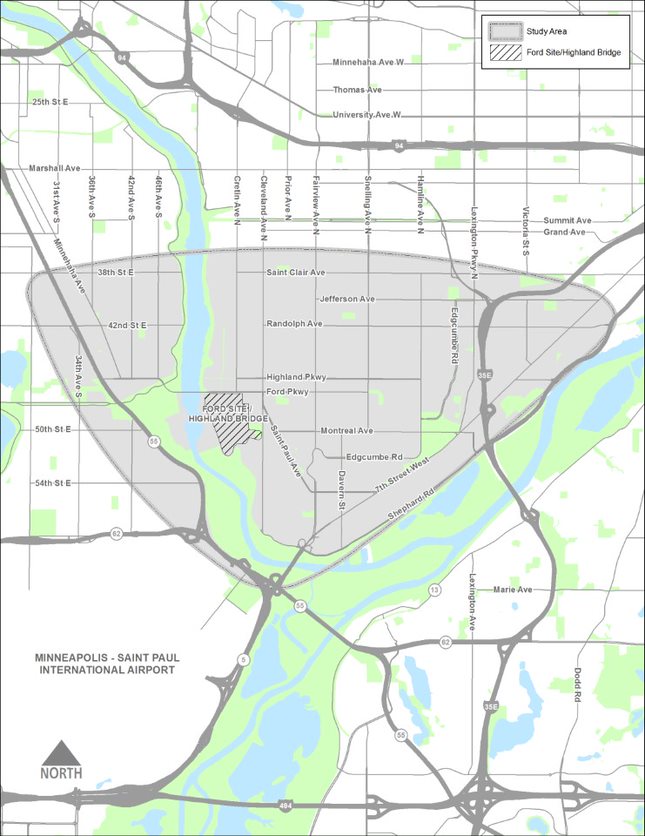 The study area includes the following neighborhoods:  
The outcome of the study will be transit recommendations and an implementation plan that Ramsey County, Metro Transit, the City of Saint Paul and other agency stakeholders can consider for further study based on future growth and funding.  
Share your input with an online survey map
We are seeking your input on key issues and challenges that you face getting around the study area today. Please take a few minutes using an online interactive map and survey to share your feedback and let us know how you see things changing in the future. Thank you for your time and input - your response will help identify the key issues and needs that will inform local transit solutions!
Current status 
The project team has started the process by reviewing previous studies and existing conditions including the Riverview Corridor Project. During the study, you will have multiple opportunities to provide your input on transit options in the area. 
Hearing from you will help our team:  
Define the comprehensive purpose and need for the project. 
Develop evaluation criteria.  
Broadly define transit alternatives.  
Develop a recommendation for transit types and routes.
Develop a preferred alternative.  
Schedule  
Introduce the study: Spring 2022. 
Evaluate feedback and develop alternatives: Spring - Fall 2022. 
Evaluation results and determine next steps: Fall 2022 - Spring 2023 
The Blue Line/Riverview Connection Study team is made up of members from Ramsey County, Metro Transit, MnDOT, Hennepin County and the cities of Saint Paul and Minneapolis.
Frequently asked questions