Rafael E. Ortega, District 5
Contact us
Serving residents of the following communities:
Saint Paul neighborhoods of Downtown, Highland Park, Macalester Groveland, Railroad Island, West Seventh, West Side, Capitol Heights, and Dayton's Bluff.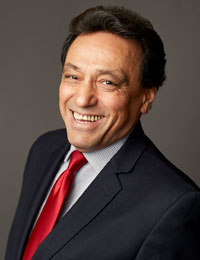 Rafael was a front-line social worker before becoming an Outreach Director for Minnesota Council of Churches. From 1985 to 1995, he served as the Executive Director of CLUES (Communidades Latinas Unidas en Servicio), a Twin Cities social service agency that grew under his leadership from a $100,000 organization to one with a $3 million budget serving more than 15,000 clients that is thriving today. Rafael is still an independent licensed clinical social worker.
Rafael became the first member of a minority group to be elected to the Ramsey County Board and the first Latino elected to a County Board in Minnesota in 1994. He has been elected by a wide majority in every election since then. He served as Chair of the Board for five years throughout his time as a Commissioner, and has served as Chair of the Regional Rail Authority for over a decade.
Commissioner Ortega is focused on protecting Ramsey County's most vulnerable residents, building a great transportation network in Minnesota, and making sure that Ramsey County delivers the best service in a cost-effective way. As a Chair of the Facilities Committee, Rafael took the lead on making county facilities fuel-efficient and environmentally sound. He has also become a recognized leader on transit in the metro area over his time on the County Board, particularly in his role as Chair of the Regional Rail Authority. He has frequently spoken on MPR and contributed to the Star Tribune, Pioneer Press, and community papers. His work has paid off for Ramsey County. In 2014, he received the Progress Minnesota Lifetime Achievement Award from Finance and Commerce newspaper for his work on job creation, business development, and the overall economic health of the Twin Cities and the entire state.
Rafael continues to show leadership in transit with his work on various projects in Ramsey County. These include the Gateway Gold Line, Rush Line, the passenger rail to Chicago, and notably the Riverview Corridor streetcar.
His top priorities currently are to build a great Riverview Corridor streetcar line which will connect Union Depot with MSP International Airport and the Mall of America.
He is leading the site redevelopment of the 427-acre Rice Creek Commons (formerly the Twin Cities Army Ammunition Plant) in Arden Hills to get it back on the tax rolls for the first time in a generation.
Rafael has been a champion of the development project of the Riverfront Properties since elected in 1994. This is a project that is finally coming to fruition: a recent Request for Development was submitted in November 2017. This is a nearly five-acre site located along the bluff overlooking the Mississippi River in downtown Saint Paul which used to house West Publishing.
It's an exciting time to live in Ramsey County. There's so much information to share about the projects that will add to the growth and strength of the region. Stay tuned for more information on these projects Rafael is leading.
Committees and commissions
Commissioner Assistant
Administrative Secretary
Ramsey County Board Office
Room 220 Courthouse
15 W. Kellogg Blvd.
Saint Paul, MN 55102