Winter Storms & Extreme Cold
Contact us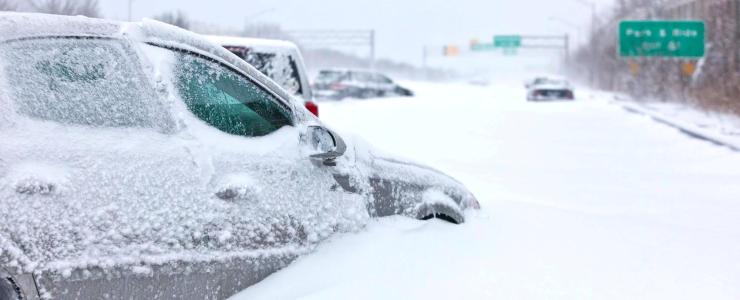 Ramsey County has no shortage of extreme winter weather. In many cases, more than one type of winter hazard occurs at the same time, like blizzards and extreme cold.
In extreme cold, your body begins to lose heat faster than it can be produced, which can lead to serious health problems. Frostbite and hypothermia are two dangers to be aware of when you are outdoors in extreme cold. 
In addition, winter weather can cause many other hazards, such as widespread dangerous travel conditions and power outages. Most extreme winter weather effects last only a day or so before plows clear roads and life gets back to normal. But some winter weather events can be long, causing disruptions to travel and utilities for days, and in the severest cases even weeks. Proper planning and safety can make these events manageable.
Types of major winter storms
Preparing for winter weather
Getting your home and car ready for winter takes a few extra steps, but they are worth it to make sure you can handle the worst that winter can bring.
See Ramsey County's Getting Ready page for basic information on warning sources and emergency planning for households and businesses.
Emergency housing
If you know someone who needs help with emergency housing in the cold, please view our Housing Services and Support webpage.
Warming spaces
Winter warming spaces are open through February 28, 2023 from 9:30 p.m. to 6:30 a.m.
Saint Paul locations:
Union Gospel Mission - 435 University Ave E. 
Phalen Activity Center - 1530 Phalen Dr.
Newell Park Building - 900 Fairview Ave N.
View details and transportation information
Driving in winter weather
Slow down and drive with extra care.
Dealing with heavy snow
Be careful shoveling, especially if the snow is wet and heavy. Heart attacks are common after a winter storm because people try to shovel too heavy a load.
Try to keep your gas meter clear of snow.
You may want to use a roof rake to lighten heavy loads of snow on your house. Do not go on the roof to clear the snow – it is not safe.
Adopt your local fire hydrant. Keep it clear of snow so that the fire department can find and get to it quickly should your or your neighbor's house catch fire.
If the snow is deep enough you may be stuck in your house for a while – either because snow plows can't clear your road soon or because the snow actually blocks your doors.