Maplewood Properties Site Planning
Contact us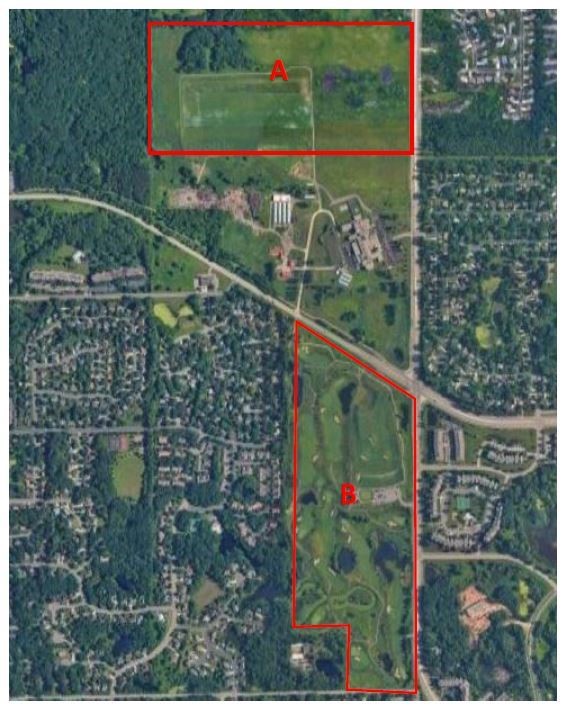 Ramsey County and the City of Maplewood are working together to plan for potential future development at the 88-acre The Ponds at Battle Creek site currently owned by Ramsey County and operated as a golf course and a 77-acre undeveloped parcel just north of the Ramsey County Correctional Facility.
Request for developer interest
On August 16, 2021, Ramsey County issued a Request for Developer Interest for each of the properties.  Developers intending to submit a proposal are asked to notify the county by email by September 20.
View the Requests for Developer Interest
Community engagement
Community engagement led by the City of Maplewood was held from November 2020 through Spring 2021:
Nov. 19, 2020: Community/Stakeholder Meeting #1 (Presentation).
Jan. 2021: Small group, stakeholder meetings.
Jan. 27, 2021: Community/Stakeholder Meeting #2 (Video | Presentation)
Feb. 22: Project Update by Perkins & Will to Maplewood City Council. (Presentation)
March 10, 2021: Community/Stakeholder Meeting #3. 4 - 6 p.m. (Video | Presentation)
May 11, 2021: Project Update by Perkins & Will to Ramsey County Board (Video | Presentation (PDF) 
June 14, 2021: Project Update #2 by Perkins & Will to Maplewood City Council (Video) 
Final report by Perkins & Will (Report)
Frequently asked questions