Food Resources
Please call a site before visiting in person to be sure you have the most up to date information.
Call the Minnesota Food Help Line at 888-711-1151 to connect to programs that can increase your food budget such as SNAP, WIC or other food resources. Interpreters are available.
The Minnesota Department of Human Services emergency food support page outlines hunger resources including food assistance, meal programs and grocery delivery.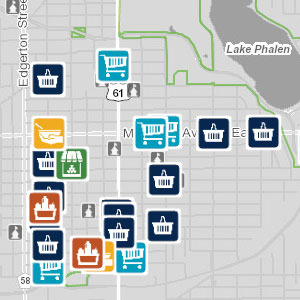 Find food and meals near you
Many free meal and food assistance programs are available in Ramsey County.
Use our interactive map to find programs near you, including food shelves, farmers markets, grocery stores, delivery services, and free dining and meal sites.
Programs to increase monthly food budgets
Programs and services for all
Programs for children under the age of 18
Programs for people with transportation or mobility barriers
Pandemic Electronic Benefit Transfer (P-EBT) available
Pandemic Electronic Benefit Transfer (P-EBT) is available for Minnesota families with children who miss free/reduced-price meals at school because of distance or hybrid- learning due to COVID-19 during the 2020-2021 school year.
Your child must be receiving benefits through free or reduced-price school meals, SNAP, MFIP or TANF. If you think your child may qualify, now is the time to enroll. Benefits will begin to be issued in late March 2021.