Food Resources
Please call a site before visiting in person to be sure you have the most up to date information.
Call the Minnesota Food Help Line at 888-711-1151 to connect to programs that can increase your food budget such as SNAP, WIC or other food resources. Interpreters are available.
The Minnesota Department of Human Services emergency food support page outlines hunger resources including food assistance, meal programs and grocery delivery.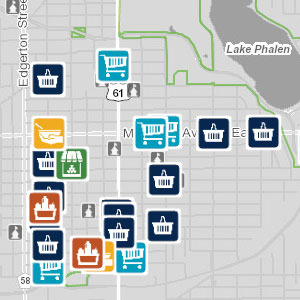 Find food and meals near you
Many free meal and food assistance programs are available in Ramsey County.
Use our interactive map to find programs near you, including food shelves, farmers markets, grocery stores, delivery services, and free dining and meal sites.
Programs to increase monthly food budgets
Programs and services for all
Programs for children under the age of 18
Programs for people with transportation or mobility barriers
Food resource guides
Guides are available in multiple languages with information on general and neighborhood-specific programs. Guides are available in PDF format and are designed for printing and sharing.